The Swinging Sticks > Classic Swinging Sticks
Classic Swinging Sticks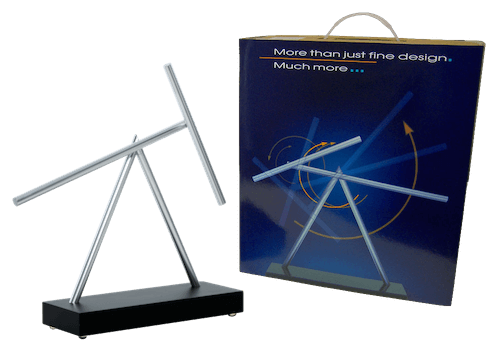 Description:
The classic Swinging Sticks are made with polished wood that is painted to perfection with a flat matte black paint. This style of Swinging Sticks was featured in the movie Iron Man 2. This famous sculpture sat on Pepper Potts desk and became a plot device between Tony Stark and Pepper Potts in the movie.
The Swinging Sticks is a handmade unique product meaning that the production quantity is very limited. Inspection and 7-10 days of testing takes place before shipping from workshop. Only products that live up to the highest quality requirements will be shipped.
Each Swinging Sticks comes with a 5 years of manufacturer warranty and a laser serial number on the base and packaging. In addition to helping with warranty exchanges this also helps protect against fraudulent products which are usually of inferior quality.
Specs:
| | USA | Metric |
| --- | --- | --- |
| Size in Motion | 16.3 x 3.6 x 17.5 in | 41.5 x 9.8 x 44.5 cm |
| Product Weight | 1.72 pds | 0.78 kg |
| Shipping Size | 13.4 x 15 x 4.7 in | 34 x 38 x 12 cm |
| Shipping Weight | 3.97 pds | 1.8 kg |
* 4 AA batteries required but not included due to shipping restrictions.
Reviews:
+ See All Reviews
Love it!
I bought this as a gift for my husband for his office at work and he loves it! Thanks!
Very unique but a little pricey!
As far as kinetic sculptures go, this one is very captivating in its simplicity. It comes right out of the box and goes on your desk or shelf. Nearly silent motion and. I've had it going for months now.
Awesome product!
Great quality, had mine for a few years and I have had no problems now. Thanks.
Submit Review